your free gift
RECEIVE A $50 LEGOE HERITAGE VOUCHER WITH ANY PURE MAMA PURCHASE OVER $40.* FOR A LIMITED TIME ONLY.
We have teamed up with our favourite contemporary maternity clothing brand Légoe Heritage, so our mamas-to-be can enjoy Summer in absolute style and comfort.
For a limited time only, all PURE MAMA purchases will receive $50 to splurge on your favourite Légoe Heritage summer essentials.*
*Terms & conditions: Minimum spend applies. $50 voucher cannot be exchanged for cash, nor can it be used in conjunction with an other offer. Redeemable by 14th Feb, 2024.
SHOP NOW
OUR PROMISE
NOURISHING, PURPOSEFUL, PURE.
Clean beauty to the highest standard. We uphold ourselves to provide the absolute best for Mamas and their skin. Our distinctive, naturally powerful blends support woman throughout their pregnancy journey and into the early stages of motherhood. From The Journal
A blog for mamas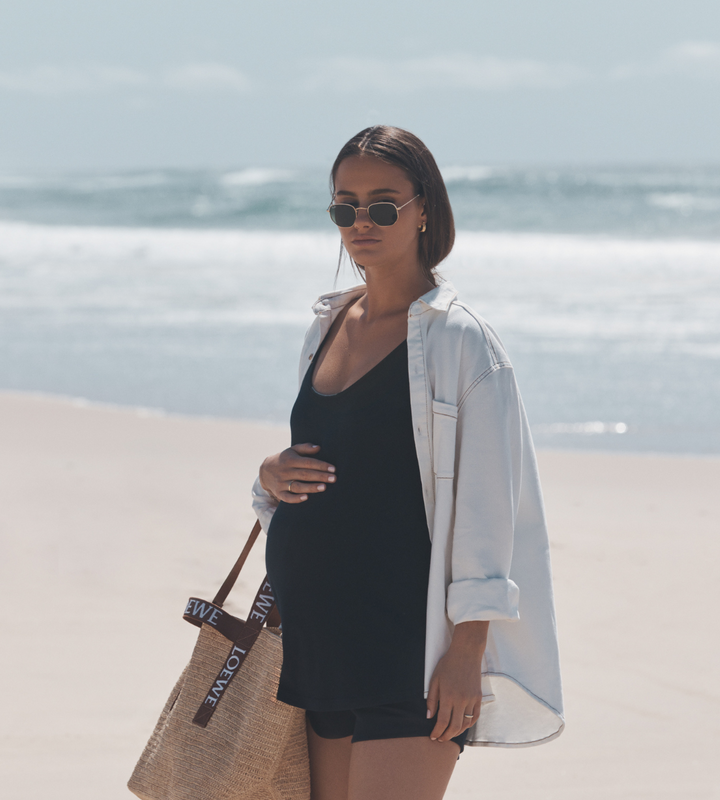 27 November 2023
As summer approaches, soon-to-be mamas often find themselves in a unique position: navigating the changes in their bodies while trying to stay comfortable and stylish in the warmer months. During this special time, it's essential to feel your best, both inside and out. This is where Pure Mama Sk...
Read More
07 November 2023
Experiencing pregnancy brings a whole myriad of feelings, sensations, and even a few rehearsals! Yes, rehearsals. We're talking about Braxton Hicks contractions - those curious, sometimes confusing, practice contractions that many expectant mamas feel. Let's unpack what they are, why they matter...
Read More
I am seriously in love with my Pure Mama products, especially the Belly Oil. It's now part of my daily ritual and it smells incredible (my hubby even loves rubbing my belly with it). This is my third pregnancy and I have tried everything as my skin gets really tight, itchy and painful at times. I haven't got any new stretch marks which is a miracle, and my skin feels softer than ever. Highly recommend.
I initially chose this brand as I loved that it is all natural ingredients and made in NZ and wow what a choice I made. I have been using this product since 8 weeks pregnant, I apply the oil to my belly every night after a shower. I cannot recommend this enough! The smell is absolutely amazing, my partner absolutely loves the smell of this product, you dont need to apply much of the oil as it spreads a long way and it doesn't leave a greasy feeling on your skin at all. My skin soaks it up so nicely. My belly is now well and truly large and not once has my belly itched during this pregnancy even with all the growing and i swear its because this oil keeps my skin so hydrated. Yes, I know no products actually prevent stretch marks, however - my skin is prone to stretch marks I have them on my hips and they are dark pink/red, so of course I have been super worried about getting dark stretch marks all over my stomach but honestly I don't have a single dark stretch mark on my belly from pregnancy, yes there are still marks but they are barely even visible and again I put it down to using this product.
I bought this for my wife who is pregnant with our first child. She'd suffered from sore breasts and nipples before she got pregnant and it had never occurred to her to try something like this. The pain was only exacerbated by her boobs growing, and her nipples became cracked and the pain worsened. This has 100% percent helped with that. Her boobs still get sore from the growing but she is no longer having tender, sore, cracked nipples.
This oil is incredible. I used during pregnancy which made a huge difference to my skin, including stopping my extreme itchiness. The smell is divine, and it doesn't leave skin feeling too oily (no transfer to clothes). I have continued to use post having my baby as I love it so much and think it is helping my belly skin recover. I am a massive fan, thank you Lara for creating this beautiful oil!